Computing
Computing @ St. Benedict's C oF E VA Junior School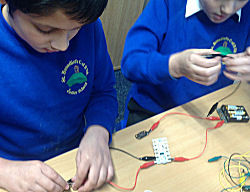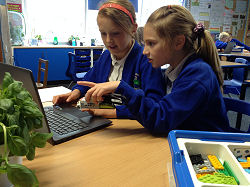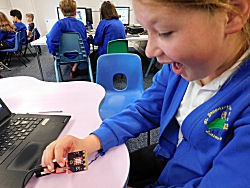 Intent:
At St Benedict's, we aim to prepare our learners for their future by giving them the opportunities to gain knowledge and develop skills that will equip them for an ever changing digital world experiencing "Life in all its Fullness" (John 10:10). Knowledge and understanding of Computing is of increasing importance for children's future both at home and for employment.
Our intention is that Computing also supports children's creativity and cross curricular learning to engage children and enrich their experiences in school by embedding computing across the whole curriculum to make learning creative and accessible. We want our pupils to be fluent with a range of tools to best express their understanding so that children have the independence and confidence to choose the best tool to fulfil the task and challenges set.
Implementation:
Our whole curriculum is shaped by our school vision which aims to enable all children, regardless of background, ability, additional needs, and to flourish to become the very best version of themselves they can possibly be. We teach the National Curriculum, supported by a clear skills and knowledge progression. This ensures that skills and knowledge are built on year by year and sequenced appropriately to maximise learning for all children. At St Benedict's, we give children access to a wide range of good quality resources and provide cross curricular opportunities for children to apply their Computing knowledge and skills.
To ensure a broad range of skills and understanding, Computing is taught using the National Centre for Computing Education's computing curriculum which uses a high-level taxonomy of ten strands ordered alphabetically as follows:
Algorithms — Be able to comprehend, design, create, and evaluate algorithms
Computer networks — Understand how networks can be used to retrieve and share information, and how they come with associated risks
Computer systems — Understand what a computer is, and how its constituent parts function together as a whole
Creating media — Select and create a range of media including text, images, sounds, and video
Data and information — Understand how data is stored, organised, and used to represent real-world artefacts and scenarios
Design and development — Understand the activities involved in planning, creating, and evaluating computing artefacts
Effective use of tools — Use software tools to support computing work
Impact of technology — Understand how individuals, systems, and society as a whole interact with computer systems
Programming — Create software to allow computers to solve problems
Safety and security — Understand risks when using technology, and how to protect individuals and systems.
The taxonomy provides categories and an organised view of content to encapsulate the discipline of computing. The strands are not always taught explicitly and may be taught as part of a unit of work. Online safety is taught half termly following Somerset ELIM ActivBytes curriculum and as a short starter activity before online devices are used. Online safety procedures are communicated with all staff and parents.
Impact:
We encourage our children to enjoy and value the curriculum we deliver. We want learners to be inspired; to discuss, reflect and appreciate the impact computing has on their learning, development and well-being. Finding the right balance with technology is key to an effective education and a healthy life-style. We feel the way we implement computing helps children realise the need for the right balance and one they can continue to build on in their next stage of education and beyond. We encourage regular discussions between staff and pupils to best embed and understand this. The way pupils showcase, share, celebrate and publish their work will best show the impact of our curriculum.